Our Mission
Our goal is to create environmental and social change through revitalizing menstrual practices that are healthy, sustainable, culturally responsive and empowering.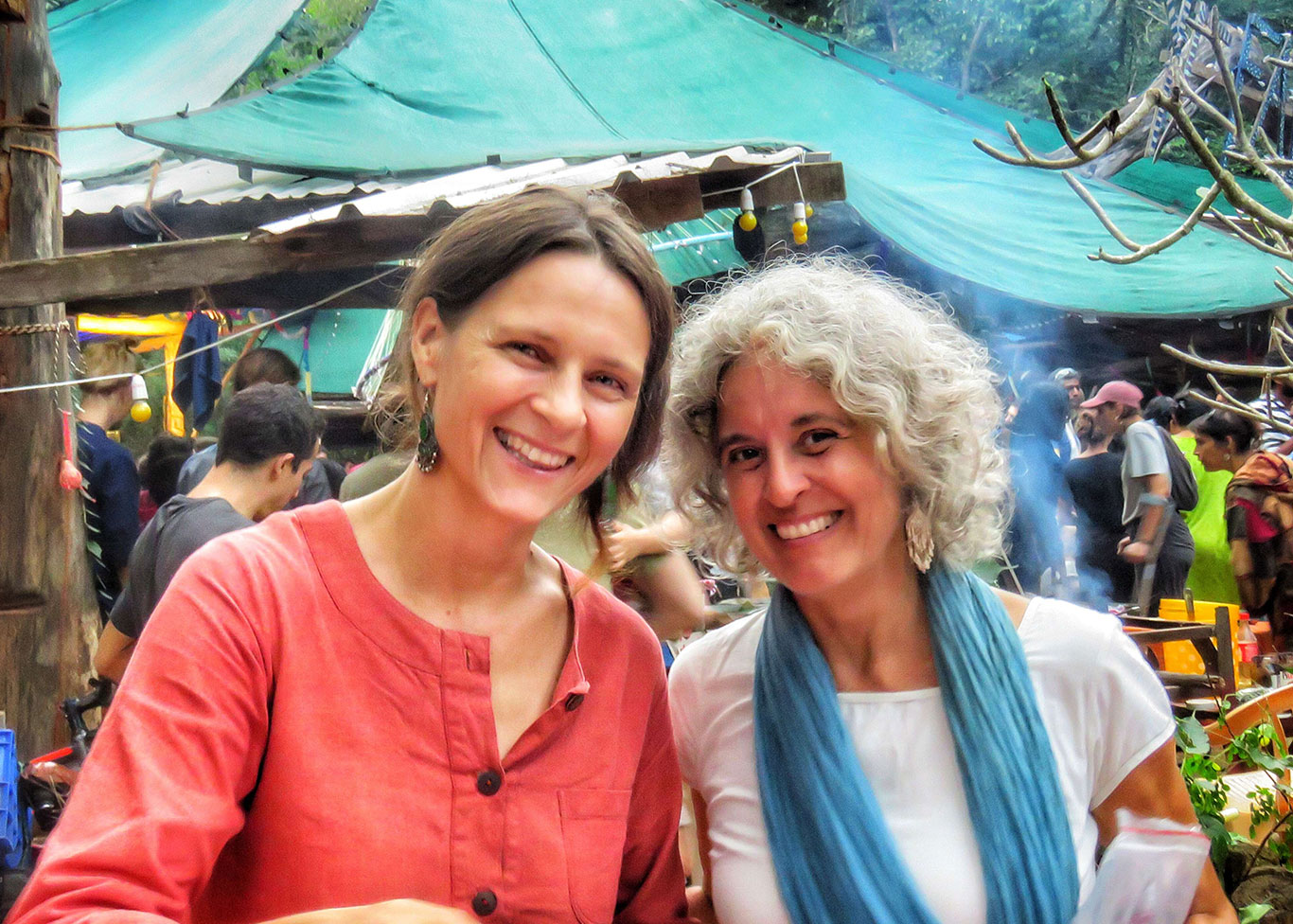 Hi, we're Kathy and Jessamijn,
the founders of Eco Femme.
Eco Femme is a global empowerment initiative born out of love of Life itself.
We see menstruation as a shared experience that transcends class, caste and culture. We believe it presents an extraordinary opportunity when we work together to transform our relationship to ourselves, one another, and the Earth.
Cloth pads are so much more than a period product; they can be a doorway through which we can build bridges of connection, invite vulnerability, ignite agency and birth authenticity.
We call this Eco-Sisterhood: a movement calling for our true selves to come together to cultivate an ecology of love.
ALL are welcome.
What we do
OUR WORK IS ABOUT TRANSFORMING ATTITUDES, NARRATIVES, AND PRACTICES ABOUT MENSTRUATION.
The key pillars of our work are:
Our Journey
It all began with a shovel and digging a hole….
On moving to India and being confronted with having to bury her used pads, Kathy dove into the world of sustainable menstruation and began stitching her own cloth pads. In 2009, she met Jessamijn who has a background in Rural Development and Livelihood projects. The rest, as they say, is herstory!
"We really are accidental entrepreneurs. We didn't set out to "create" Eco Femme… it all just flowed (ha!) Cloth pads were a product that made so much sense and resonated with our values around women's empowerment and care of the earth."
– Jessamijn
Cloth pads as a conversation starter for unpacking culture…
Our initial research with women in India revealed unexpected findings about menstrual health practices. We discovered that, with education that supports informed choice, washable pads were the number one product choice. The research also highlighted the many myths and taboos that continue to harm women and prevent them from fully participating in life and realising their potential.
As of 2023, we have saved 100 million disposable pads from landfills and served over 120,000 girls and women across India.
Our social enterprise
AS A SOCIAL ENTERPRISE, WE PRACTICE BUSINESS AND PRODUCTION ETHICALLY.
Eco Femme works with village women to stitch cloth pads which are now sold in over 27 different countries.
Our cloth pad sales help fund our culturally sensitive Menstrual Health education and cloth pad distribution for girls and women in India.
Today, Eco Femme has a flourishing community of 80 NGO partners in India and more than 250 volunteer Ambassadors all around the world.
Eco-Sisterhood
Eco Sisterhood is the beating heart of everything we do at Eco Femme.
The times we live in demand new leadership and new ways of responding to the challenges humanity faces.
We believe eco-sisterhood offers the transformation we so deeply need.
Eco-sisterhood is made up of relationships built upon compassion, vulnerability, generosity, intuition, deep listening, connection, and authentic love.
We believe supporting each other in this nourishing and restorative way can help generate real change and facilitate a deeper shift away from competition—a mindset rooted in scarcity—towards supportive collaboration and stewardship.
Connection to Earth
Beyond the very real, tangible impact that plastic and disposable pads have on the earth, we believe that the future also lies in reconnecting with our environment on a deeper, embodied level.
We live in an era of convenience where we throw things away without really wondering where "away" is.
To challenge this mindset, we need to question;
What is our responsibility when it comes to the waste we generate?
How do our product choices affect the larger whole that we are all part of?
We value an ethic of stewardship that recognises we are intimately connected and live in reciprocity with our living earth. Each of us is responsible for caring for our earth, especially for the impact of our consumer choices.
Menstrual Cycle Awareness
Menstrual cycle awareness is a powerful tool for building greater self-awareness of our inner worlds and for respecting natural rhythms and cycles.
Cycle tracking is about far more than simply noting the days you bleed. It invites us to look directly into the most intimate parts of ourselves that we've been conditioned to deny or avoid; to become aware of and respect the fluctuating rhythms of our emotional, body, and spiritual inner world. This awareness helps us become more sensitive and attuned to how we feel, think, and behave according to different cycle phases.
Understanding this has the power to bring dignity back to our menstrual experiences and become a doorway to deepening a sense of connection to the greater cycles of nature and belonging to the earth.
Informed Choice
Menstrual health narratives and interventions can perpetuate the myth that the right product will address the "issue" of menstruation. Not only does this deny the complexity and nuances of menstruation, but sometimes the products are not feasible or even practical!
To truly empower women, we believe the focus must lie in equipping individuals with the education and agency to make informed choices.
Our educational approach is founded upon encouraging dialogue and supporting women to think critically by participating in product analysis activities that consider the pros and cons of all available menstrual products.
Our home
Eco Femme is nestled in the forests of Auroville, an international UNESCO endorsed city-in-the-making based in Tamil Nadu, South India. Our diverse community is made up of people from more than 50 different countries working towards human unity.
From these strong roots, Eco Femme has branched out all over the world, largely through the travelers who are inspired after visiting our office, meeting the team, and engaging with our work (or reading our cloth pad posters on the back of toilet doors!).
Auroville has been an enduring source of inspiration that has shaped and guided every aspect of Eco Femme's development. To learn more about this special relationship read our blog.
Meet our Team
Our team in Auroville is made up of more than 20 international women (Australia, The Netherlands, Chile, South India, North India, France, and Belgium to name a few…) ALL working together to create the future we dream of. We have a thriving community of volunteers, interns, and ambassadors all around the world who support our core team.
Our work is evenly divided between not-for-profit education and research activities and commercial activities to market and sell our pads.
Meet our tailors
Women generating their own income is a crucial step towards empowerment and greater freedom. We work with four local tailoring units for rural women. Learn more about the ladies who have stitched your pads:
Auroville Village Action Group
Cocoon
Clothing Creations
Blossoms
Why
Menstruation matters to everyone – no matter their race, age, or gender.
Menstruation does not need to generate pollution and our products do not need to harm our health.
All of us have menstrual memories, whether we bleed or not. We believe we can use this shared experience to start deeply connecting conversations that advance social transformation and ecological awareness.
We dream of a world where menstruation is normalized as a natural process and celebrated as essential to Life.
We are convinced that respect for our bodies and respect for our Earth are inextricably connected; both are essential for a sustainable future.
Together, we have what the world needs.